Collection Targets
EPBA supports targets based on what is available for collection rather than the three‑year average sales basis. The current calculation basis does not take into account the reality of the battery market as well as the complexity of collection. The experience of the past 12 years confirms that setting a higher collection target, based on the current calculation methodology, will not automatically yield higher collection results (see EPBA collection reports of previous years ).
Why not all waste batteries are being collected?
It is a common misconception that a 45% collection target means the other 55% inversely end up in household waste. Fact is that a big share of these non-collected waste batteries are just not available for collection. These batteries are either still in use (as they last much longer than 3 years), hoarded by consumers or exported in (W)EEE to regions outside Europe. EUCOBAT data points to less than 10% of portable batteries put on the market ending up in household waste.
---
EPBA calls for a new calculation methodology, which determines more precisely the volume of batteries "available for collection", taking into account the product lifespan and the estimated share of waste batteries which are not returned to collection points (batteries not removed from WEEE or exported with WEEE).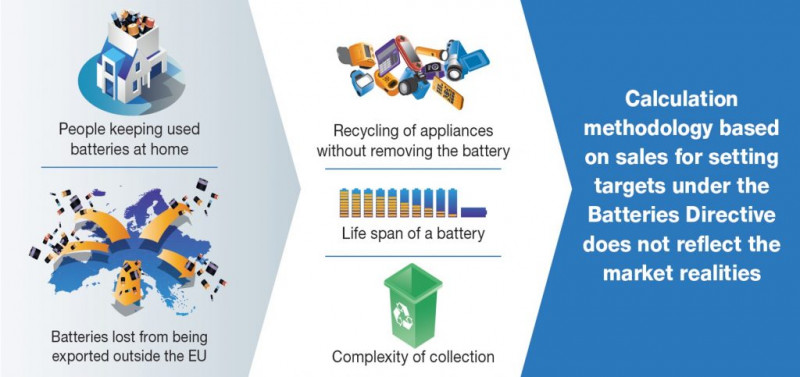 Increased consumer awareness via visible fee and kerbside collection
In order to achieve better results, EPBA calls for more education campaigns towards consumers, additional strategies for collection including for instance kerbside collection as well as the use of visible fees to raise consumer awareness about the importance of battery collection and recycling and make them an integral part of the process.